Physician Staff
Dr. Liam Doherty - Respiratory physician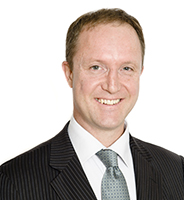 Dr. Liam Doherty was appointed as Consultant Physician and Honorary Lecturer at North Tyneside District General Hospital in 2003. He was appointed as Consultant Physician in Respiratory and General (Internal) Medicine at the Bon Secours Hospital, Cork in September 2006. He is a member of the Irish Thoracic Society, European Respiratory Society, American Thoracic Society, Irish Sleep Society, and the American Academy of Sleep Medicine.
Dr. Doherty specializes in Sleep Disorders and Obesity. He maintains a strong academic interest and has presented his work at many International meetings and published widely.
Publications:
"Home-Based Assessment of Sleep Apnoea using Simultaneous Electrocardiogram and Oximetry Signals" Philip de Chazal, Conor Heneghan, Chern-Pin Chua, Redmond Shouldice, Liam Doherty, Silke Ryan and Walter T. McNicholasBook Chapter Chapter 4. In: Progress in Sleep Apnea Research
Impact of nasal continuous positive airway pressure therapy on the quality of life of partners of patients with sleep apnea syndrome. Liam Doherty, J.L.Kiely, G.Lawless, W.T.McNicholasCHEST - 2003; 124(6), 2209-2214. 
Long-term effects of nasal CPAP therapy on cardiovascular outcomes in the sleep apnea syndrome Liam Doherty, J.Kiely, V.Swan, W.T.McNicholasCHEST - 2005; 127(6):2076-2084
Home Mechanical Ventilation in the Irish Republic Liam Doherty, W.T.McNicholasIr Med J. 2005 Jul-Aug;98(7):202-6
Effects of topical anesthesia on upper airway resistance during wake-sleep transitions. Liam Doherty, Philip Nolan, Walter T McNicholasJ Appl Physiol. 2005 Aug;99(2):549-55
Case report: Aortic regurgitation and Churg-Strauss syndrome Liam Doherty, R Bexton, C. Plummer, J. Dark, Fiona Black, James LordanQJM. 2005 Oct;98(10):772-3 
Auto-adjusting versus fixed positive pressure therapy in mild to moderate obstructive sleep apnoea. Nolan GM, Liam Doherty, Mc Nicholas WT.SLEEP 2007 Feb 1;30(2):189-94.
Late-onset central hypoventilation syndrome: a family genetic study Liam Doherty, Kiely JL, Deegan PC, Nolan G, McCabe S, Green AJ,Ennis S, McNicholas WTEur Respir J. 2007 Feb;29(2):312-6
Improved surface EMG electrode for measuring genioglossus muscle activity O'Connor CM, Lowery MM, Liam Doherty, McHugh M, O'Muircheartaigh C, Cullen J, Nolan P, McNicholas WT, O'Malley MJRespir Physiol Neurobiol. 2007 Oct 15;159(1):55-67. Epub 2007 May 24
.Electrocardiogram recording as a screening tool for sleep disordered breathing Heneghan C, de Chazal P, Ryan S, Chua CP, Liam Doherty, Boyle P, Nolan P, McNicholas WT.J Clin Sleep Med. 2008 Jun 15;4(3):223-8
.The genioglossus response to negative airway pressure: stimulus timing and route of delivery Liam Doherty, John P Cullen, Philip Nolan, Walter T McNicholasExp Physiol. 2008 Feb;93(2):288-95. Epub 2007 Oct 19
.Effects of Salmeterol on Sleeping Oxygen Saturation in Chronic Obstructive Pulmonary Disease. Ryan S, Liam Doherty, Rock C, Nolan GM, McNicholas WT.Respiration 2009 Aug 14. 
.Effects of Heated Humidification and Topical Steroids on Compliance, Nasal Symptoms, and Quality of Life in Patients with Obstructive Sleep Apnea Syndrome Using Nasal Continuous Positive Airway Pressure Silke Ryan, Liam Doherty, Geraldine M. Nolan, Walter T. McNicholasJ Clin Sleep Med 2009;5(5):422-427.
.National narcolepsy survey. Liam Doherty, Crowe C, Sweeney B.Ir Med J. 2010 Apr;103(4):110, 112-3.
Efficacy of nebulised colomycin in patients with non-cystic fibrosis bronchiectasis colonised with Pseudomonas aeruginosa. Dhar R, Anwar GA, Bourke SC, Liam Doherty, Middleton P, Ward C, Rutherford RM.Thorax. 2010 Jun;65(6):553.
National narcolepsy survey. Doherty L, Crowe C, Sweeney B. Ir Med J. 2010 Apr;103(4):110, 112-3.
Can You Die From Obstructive Sleep Apnoea Syndrome (OSAS)? G O'Carroll, E Doody, C Vaughan, L Doherty. Irish Medical Journal 2015. Feb 108(2):40
The Positive Impact of Bariatric Surgery on Sleep. Xie H, Doherty L, O'Boyle C. Ir Med J. 2016 Jan;109(1):328-30.